Shane Cridlebaugh. Esq.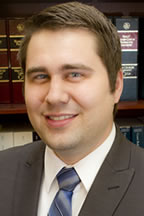 A Tacoma native, Shane Cridlebaugh attended Lakes High School and Pierce College until 2006, when he moved out away from Washington for the first time to spend a few years helping people in Louisiana. While there, Shane spent substantial amounts of time with individuals who had been affected by natural disasters, family troubles, and other hardships. During this time, Shane developed an understanding of the importance of understanding the law, as he witnessed the struggles of many individuals who didn't have the experience or the legal guidance needed to help them through their struggles with insurance companies, criminal proceedings, and family problems.
In 2008, Shane left Louisiana and moved to Idaho to return to school and obtained a social science degree with a focus in criminology. He completed his degree in July of 2010, and was accepted to Brigham Young Law School beginning in August of 2010. Shane graduated from law school in 2013 and returned to Tacoma eager to begin practicing law. Since then, Shane has represented hundreds of clients in cases involving complex family law matters, horrific automobile and other accidents, and difficult criminal cases.
Shane believes the most important thing an attorney can do is to be available and be ready. Whether that means taking a case to court and being prepared with the newest and most relevant cases or responding quickly to any and all client emails and calls to make sure the true story is told, Shane is determined to always provide the kind of representation that is needed. And although the court closes at 4:30, you can always reach Shane with a quick email.
While he's not in court or at the office, Shane spends his time volunteering in his local community, reading a good book, or spending time with his five children.