Andrew "Drew" Dickinson, Esq.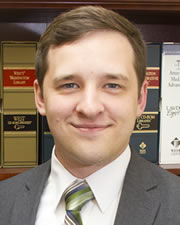 Drew practices in the areas of family law, personal injury, and criminal law. Born and raised in the greater Tacoma area, he enjoys helping his neighbors to get the help they need. He was raised in Pierce County, but spent a decade away from the area. During some of that time, he traveled southern Brazil. Drew lived in areas where people had little access to the law, and as a result, many families were an in shambles with no help in sight from the legal system to help them to resolve their legal concerns. He saw the missing children, the extreme poverty, and the grief that resulted when the law is inaccessible. There he learned fluent Portuguese and also learned that the law can help families when applied correctly. Laudemir Coelho, a Brazilian friend, first noted Drew's penchant for passionate argument in defense of his friends, a talent that Drew uses throughout his practice of the law today.
Drew enjoys helping others. Growing up he found many ways to serve the community. He has volunteered for service in parks, at the museum of glass, as an eagle scout placing trail markers for the Tacoma Nature Center at Snake Lake, working as a volunteer with disabled youth through the community inclusion program, acting as class president for years at his high school, helping the homeless through a series of bed moves, helping children in need through a series of Crisis Nurseries, volunteering with local religious youth groups, and serving for a time as a regional representative for the J. Reuben Clark Law Society responsible for the Student Chapters in Washington and adjoining states as well as Hawaii and Alaska. Drew continues to find ways to serve.
In the spare time Drew had before becoming an overworked attorney he enjoyed reading, longboarding, playing his stringed instruments, disc golf, kayaking, putting computers together, and spending time in and around the Puget Sound.
Areas of Practice: Same as Clay
Divorce
Adoption
Child Support
Custody & Visitation
Family Law
Criminal Law
DUI
Domestic Violence
Personal Injury
Auto Accidents
Bar Admissions:
Washington State Bar Association 2015
Education:
Gonzaga University School of Law, JD
Brigham Young University, B.S. Psychology